How Not to Forget Your Shiny New Straw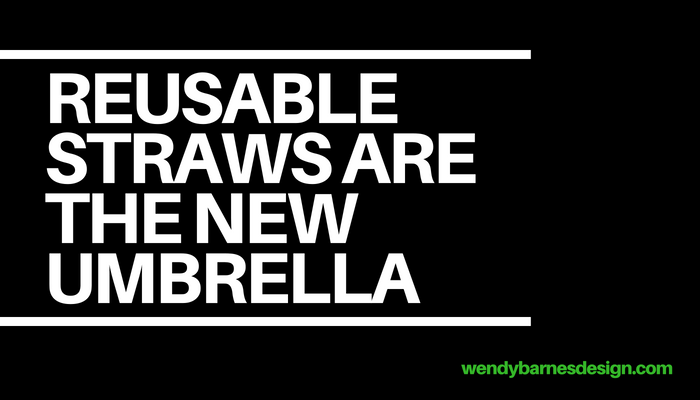 It's an epidemic. Or a field day for restaurants looking to build up a stock of reusable straws.
You are doing the right thing (bravo!!) and already have your nice, new reusable straw to be able to proudly ditch single-use plastic and skip the straw when you dine out.
Tonight's the night! You even remember to slyly say "No straw please! I brought my own..." with a slightly debonair twang. You pull out your beautiful new (insert type here: stainless steel, copper, bamboo, you name it) straw, hopefully from your equally as awesome Reusable Straw Case by Wendy Barnes Design that you easily can spot in your bag, and you dance it into your glass. Your friends and the waitstaff remark and salute.
About an hour later, you parade out and the once loved straw is lonely and confused. By the time you remember it, chances are you are far, far away and the straw is now matched with dozens of others facing the same fate (many looking the same) so you mourn and (hopefully*) shop for another.
*I say hopefully as it would be so disappointing if your 'reusable run' was over- don't give up!
In one week, my husband and my brother-in-law proudly used, snapped photos for me and then promptly forgot their shiny new metal straws. I've done it too. I believe reusable straws will easily top umbrellas this year as the most forgotten item and unless your straw is unique, you likely will not see it again.
What's the remedy?
Get a box of paper straws and only when you consistently remember to grab your paper straw at the end of each outing are you ready to use your new reusable straw. It's that simple. Training wheels.
Reusable Straw Cases can comfortably hold 24 standard sized paper straws. Use your sea star print case for paper and then switch to your reusable metal straw or bamboo straw or whatever you so choose when you graduate from forgetting your straw!
Wendy Barnes Design connects wildlife conservation causes to everyday lifestyle choices through animal prints resulting in awareness and action. Join the mailing list for updates, sales and to meet the partners you can support through every purchase and more at www.wendybarnesdesign.com